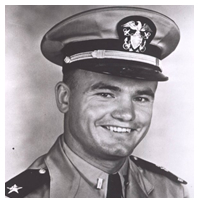 Nile Kinnick, was an all-American football player, a scholar, and a World War II hero. Kinnick was born July 9, 1918, in Adel, IA and went on to play football for the Iowa Hawkeyes in the 1937-39 seasons and to become a brother in Phi Kappa Psi.
His name has become legendary at the University of Iowa. As Iowa's only Heisman Trophy winner, Kinnick remains Iowa's greatest ever. In a time where players were expected to play both offense and defense, Kinnick excelled. His senior year (1939), Nile played 402 out of a possible 420 minutes and was involved in 107 of Iowa's 130 points. He played quarterback, he kicked field goals, he returned kicks, he played defense…he was everywhere. His 8 interceptions that season and 18 in his career, still stand as records at Iowa.
After a stellar collegiate career, Nile turned down a career in professional football. He had graduated as a member of the national honor society, Phi Beta Kappa, and enrolled in law school in the fall of 1940. But Nile's academic pursuits were cut short in December of 1941 when he was called to duty, just days before Pearl Harbor was bombed.
Kinnick trained to be a pilot and served his country in the Pacific until 1943 when tragedy struck. On June 2, 1943, during a routine flight, the engine in Kinnick's plane malfunctioned. Rather than risk the lives of the men on the carrier by attempting a crash landing, Kinnick turned his fighter to the Gulf of Paria and neither he nor his plane have been found to this day.
Nile's exceptional life ended at the age of 24 but his memory lives on through the brothers of the Phi Kappa Psi Fraternity and this scholarship program. Live ever, Die Never…